Asia accounts for 48 percent of the total global games market. In order to succeed in your mobile games marketing in Asia, it is crucial to know the numbers and figures and understand the key specific characteristics in each of your target countries. Just before you start investing all your time, money and effort in joining the ranks of game studios trying to break into the Chinese market, it may be worth your time to take a look at this Newzoo report: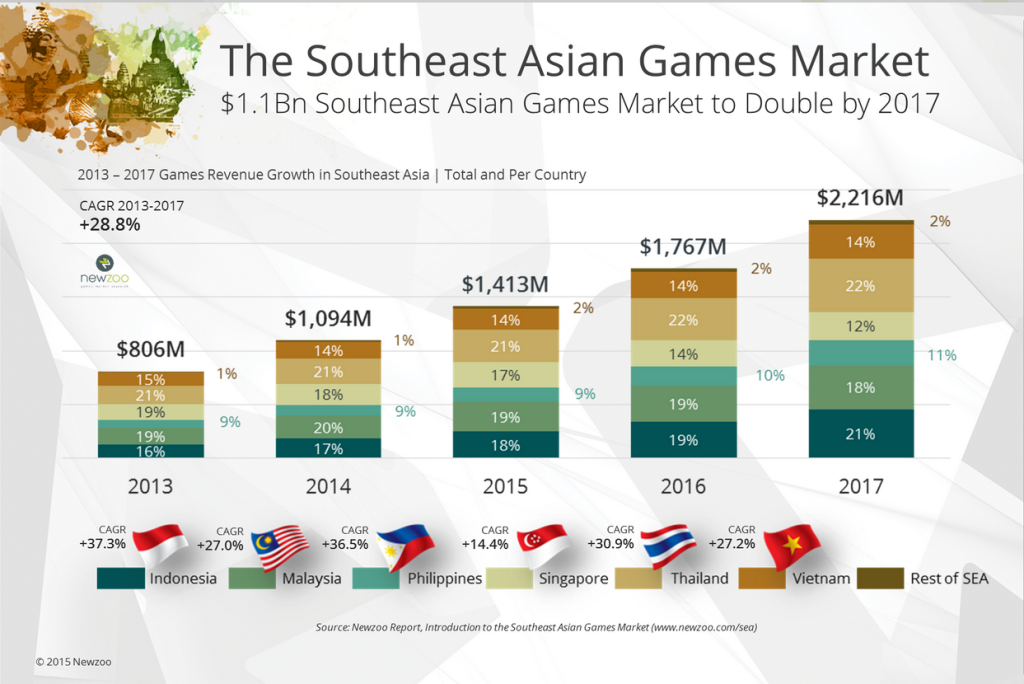 Southeast Asia isn't getting the attention it deserves
Thanks to the rapidly growing economic development and dramatically increasing internet-access rate, Southeast Asia is one of the fastest-growing regions for gaming. In just 2014, Indonesia, Malaysia, the Philippines, Singapore, Vietnam and Thailand spent $1.1 billion on games, and the growth shows no sign of slowing down; quite the contrary in fact, as Newzoo estimates a continued annual growth rate of 28.8%, doubling spending to $2.2 billion by 2017. Much of the growth is brought about by mobile usage:
"Between 2004 and 2014, Internet access in the Philippines grew more than 800 percent, the fastest rate in the region due primarily to the boom in mobile internet."
By the same logic, it should come as no surprise that mobile games are catching up with PC and MMO games in terms of spending and revenue generation:
"Vietnam is quickest on this trend, with mobile-phone games seeing a compound average growth rate from 2013 to 2017 of 87.7 percent, becoming the biggest segment in terms of revenues by 2017."
More cities = more Internet users
One driving force of this rapid growth is the metropolitanization of these Southeast Asian countries. As more people migrate to cities, more people get access to the Internet and many of them start playing games.
According to the report,
"The sheer size of the Southeast Asian population, and its rapid rate of urbanization of 1.4 percent average annual rate of change compared to China's 0.5 percent, and its young and tech-savvy demographic, are all factors favorable for growth."
The cherry on top? Unlike in China, there's free and unrestricted access to Google Play in these Southeast Asian countries. In order to really succeed in these regions, however, it may be worthwhile to spend some time looking into localizing your games to adapt to the very diverse and distinct cultures of these specific countries, and taking language barriers and mobile usage habits into account.
So what's the takeaway? Next time you think about where to launch your next game, or where the hot Tier 2 market opportunities are for you to expand your games' reach in Asia, don't forget to take this data into consideration! ;-)